We offer Fire Training courses for all types of organisations, with the aim of improving awareness and to encourage delegates to give greater consideration to fire safety at their place of work.
To book your training you are can phone, email or complete our enquiry form and we'll be in touch.
All courses involve theoretical input using a variety of delivery methods, combined with realistic practical training activities involving real live fires.
Our experienced instructors actively encourage delegate participation, during both the theory and practical, presenting all attendees with the opportunity to gain valuable hands-on experience in a safe training environment.
Training sessions can be delivered at the customers' own premises or at a nearby East Sussex Fire Station where possible. (e.g. Hove, Roedean, Seaford, Eastbourne, Hastings, Forest Row etc).
We can also deliver training at our purpose-built Training Centre in Maresfield close to the town of Uckfield.
We can provide a projector and screen where needed for the training or simply present using the host sites' own audio-visual equipment such as a large TV or projector.
Our training is available as in-person face-to-face training or online as an interactive webinar which is live (not pre-recorded).
Flexibility
We have a flexible approach to ensuring that we meet our customer's needs. All courses can be modified to suit your requirements.
Fire Warden training
Fire Extinguisher training
Fire Awareness training
Practical Fire Extinguisher training
Please contact us via our online enquiry form or call on 01323 462141 to explore your needs so we can propose how to make our training best suit you. Alternatively let us know if you would like to have a meeting in person or via zoom or similar.
Webinar
We started delivering our training by webinar in 2020 and it has become so popular with our customers that it has become one of our standard methods of training delivery, offered alongside 'traditional' face-to-face training.
The webinar version does not require learners to have a webcam, they simply need a keyboard, screen and an internet connection.
We encourage delegate participation in all our methods of training to help maintain interest, attention and to enable learners and their employers to get the most benefit from attending the training.
---
Practical Fire Extinguisher
Practical Fire Extinguisher training is delivered at our customers' sites with our unique mobile fire extinguisher training unit.
This equipment produces highly controlled live fires which are totally safe, fuelled by clean-burn propane gas and therefore do not produce any smoke.
The fires will not leave any residue at the training venue.
This short video shows the sort of area we need for the practical training
---
Webinar or Face-to-face?
The webinar can be run at any time of day or night as suits you and of course does not require the provision of a training room.
The webinar uses a purpose-made webinar platform which does not require delegates to have cameras or an on-screen presence, so there are no interruptions from dogs barking or doorbells ringing in the background, as is so often seen in online events such as Zoom meetings.
A short video about how the webinar works.
Delegates participate in the interactive webinar using their keyboard to type short responses in a chat window and their mouse to select answers in polls.
Staff at multiple locations can all participate in the same interactive webinar from the comfort of their workplace or home.
There are no software requirements and no need for a webcam.
All delegates need is a decent internet connection and a laptop, PC or Tablet on which to attend the webinar.
Registration for the webinar is easy and straightforward requiring entry of first name, surname, and email address.
If you would prefer the training to be delivered face-to-face we can do so at your site on the condition that a suitable room is available with plenty of space and good ventilation for the safety of all.
Alternatively, where possible, we might be able to host the training at a local East Sussex Fire Station.
---
Delivering quality and value
We have over 23 years' experience of delivering fire safety training to businesses and organisations.
We always provide a generous amount of equipment for the practical training and guarantee that each delegate will have at least three goes at extinguishing real fires.
For training delivered at the customers site or local fire station, the real fires are fuelled by clean-burn propane gas and therefore do not produce any smoke or leave any mess at the training site. The fires at our Training Centre are fuelled by flammable liquids and wood.
We will be happy to deliver the training at whatever time of day suits you.
We are proud to offer a customer-focussed service.
We aim to deliver the training you want at the times that suit your business needs.
How to arrange training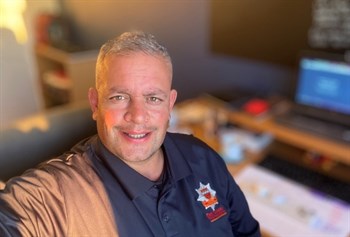 Please contact us to explore dates and prices.
When we have agreed the date and times, you will be sent full confirmation including where relevant a link for registration for the webinar.
Delegates are automatically sent a link for the webinar which will be live from the published start time.
For training delivered at your site there are no pre-registration requirements for individuals.
Following the training, delegates will be provided with electronic course notes and a link for providing feedback online. Certificates of attendance will be sent to your training administrator via email.
We hope that you want to book your training with us and look forward to hearing from you to either book in or for an exploratory chat.
Raj Baksi
Commercial Training Manager
01323 462141
---
Fire training course on-line feedback form
If you have attended one of our fire safety courses, you would have been advised about the online feedback form.
Please take a few minutes to provide us with your thoughts relating to your training and learning experience.
We use this information to evaluate the results of our training, learning and development activity and to inform, shape and improve our purpose so that you get the best training, learning and development experience possible.