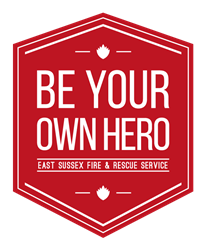 We would love to be with you all the time to help keep you safe – but there are times you need to Be Your Own Hero.
Be Your Own Hero in Six Simple Steps
1 – Protect your home with working smoke alarms – install smoke alarms on every level and test them every week.
2 – Take extra care in the kitchen – over 50% of accidental fires in the home start in the kitchen.
3 - Checking your electrics – Check and maintain your electrical appliances – you can also register them for recall information.
4 – Smoke safe (if you must smoke at all) – put them out, right out.
5 - Make sure you sleep safe – a bedtime safety routine can reduce the risk of fire whilst you are asleep.
6 – Plan a safe escape – make sure you know how to get out of your home in an emergency.
---
Real life stories
Our latest survey found:
Cooking and electrical fires are top of the list for causes of fires at home;
Burnt food is often a major culprit of house fires, when people become distracted by their busy lives;
Tea towels and other items left on the cooker are also an issue;
People forget that they are cooking and become distracted by pets, children, social media and other activities;
Many tried to put the fire out themselves instead of calling 999.
Read our report
---
A fire can start in ways you might not expect
Chrissy left a cosmetic mirror on the bedroom windowsill and went downstairs for just 12-and-a-half minutes. After returning upstairs, Chrissy opened the bedroom door to be met by the fire, which had already enveloped a large bedroom window, rapidly spreading to curtains and destroying the bedroom.
---
Don't let a fire destroy your home and your life
A mum has spoken out about the devastating affect a house fire has had on her family.
A loft fire caused extensive damage to their home and the Lewes family-of-four had to vacate the property for eight months.
Anna Stevens was putting her two young children to bed when she was met by a plume of smoke from the loft, which resulted in her fleeing immediately, accompanied by her young kids.
As part of our Be Your Own Hero campaign we are urging residents to carry out essential safety checks to help prevent fires in the home.
Anna wants to remind others about the importance of making sure that you have a working smoke alarm, along with home contents insurance.
---
Magnifying glass causes fire
While cooking and electrical items are the main causes of fires, some are started in more unusual ways.
Louisa Sheridan, a Crowborough business woman, talks about the devastating impact of a house fire which dramatically changed her life.
Louisa came home one day to find that a fire, caused by a magnifying glass in her office, had ripped through her home, destroying all her family's treasured possessions.
---
Electrical Safety
Richard Moon chats to us about what you can do to protect yourself against electrical fires.
---
Heads Up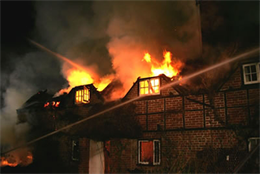 Our Heads Up website has other real life stories about fires – we don't want this to happen to you…