Interested in stopping smoking?
One You East Sussex, is the free Healthy Lifestyle service providing support to help people stop smoking.
As well as reducing the risk of accidental fires, there are many health benefits of quitting smoking which include:
Within two to 12 weeks of stopping smoking, your blood circulation improves.
Your immune system will be boosted, making it easier to fight off colds and flu.
An increase in oxygen in the body can also reduce tiredness and the likelihood of headaches.
To find out more about FREE help if you live or work in East Sussex you can visit: https://oneyoueastsussex.org.uk/services/quit-smoking/ or ring 01323 404600
If you live in the Brighton or Hove area email smokefree@brighton-hove.gov.uk or ring 01273 294589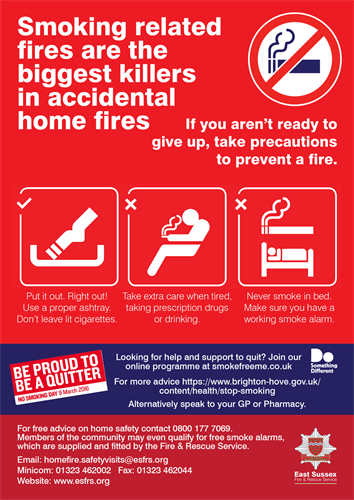 Smoking is the biggest house fire killer
Cigarettes and other smoking products cause a third of all accidental fire fatalities in the home – the biggest killer in accidental fires. Many can be easily prevented by simply taking more care.

Tobacco is manufactured to burn at over 700 degrees C and to stay alight, meaning it can remain smouldering and start a fire.

When smokers fall asleep with a lit cigarette in hand, clothes, bedding or furniture can easily catch alight. Just two to three breaths of toxic smoke can render you unconscious and unable to escape.

These simple steps can help prevent a cigarette fire in the home:
Never smoke in bed. Take care when you're tired - it's very easy to fall asleep while your cigarette is still burning and set furniture alight.
Never smoke when under the influence of drugs or alcohol. If your lit cigarette starts a fire you could be less able to escape.
Put it out, right out! Make sure your cigarette is fully extinguished.
Fit a smoke alarm and test it weekly. A working smoke alarm can buy you valuable time to get out, stay out and call 999.
Never leave lit cigarettes, cigars or pipes unattended - they can easily overbalance as they burn down.
Use a proper, heavy ashtray that can't tip over easily and is made of a material that won't burn.
Consider buying child resistant lighters and match boxes
---
Smoking in a car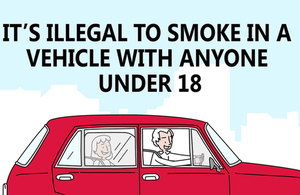 It is illegal to smoke in a car (or other vehicles) with anyone under 18 present. The law is to protect children and young people from the dangers of secondhand smoke.
Both the driver and the smoker could be fined £50. The law applies to every driver in England and Wales, including those aged 17 and those with a provisional driving licence. The law does not apply if the driver is 17 years old and is on their own in the car.
Every time a child breathes in secondhand smoke, they breathe in thousands of chemicals. This puts them at risk of serious conditions including meningitis, cancer, bronchitis and pneumonia. It can also make asthma worse.
The law applies to any private vehicle that is enclosed wholly or partly by a roof. It still applies if people have the windows or sunroof open, have the air conditioning on, or if they sit in the open doorway of the vehicle. The law won't apply to a convertible car with the roof completely down.
For more information, see the guidance on new rules about tobacco, e-cigarettes and smoking
---
Looking after someone who smokes
If you look after someone who smokes, help them stay safe. Over the past years a number of fire deaths in East Sussex have involved elderly/immobile persons setting themselves alight, with ignition normally caused by smoking materials. Warning signs are often obvious - with tell-tail signs of near-misses include visible burn and scorch marks.
Whenever possible, it is always safer for someone else to light their cigarettes
Remove matches & lighters and replace with a non-flame cigarette lighter
Encourage smokers to cover their lap with a fire retardant cover or wear a smoking apron
A proper ashtray must be used and emptied – keep it within easy reach
Discourage smoking in bed. If this is not possible consider getting fire retardant bed covers
Ensure smoke alarms are fitted, work properly and are tested regularly
Smokers are suitably monitored
Smoking only takes place in recognised and designated areas
Check that a water-type fire extinguisher is readily available and people are trained to use it
Smoking on airflow mattresses should be avoided, but if not possible cover with fire resistant bedding