We are committed to reducing the impact of fire on people, property, and the environment in raising an awareness, playing a key leadership role in promoting a better understanding of the benefits of Automatic Fire Suppression Systems as part of our plan managing, reducing risks to communities within East Sussex from fire.
ESFRS Responds to The Government Consultation on Approved Document B
We fully support the government consultation which closed on March 17, 2023 to make it mandatory for
New care homes to have sprinklers fitted.
New residential buildings above 30 meters to have a minimum of two staircases.
We have reaffirmed our support in the National Fire Chiefs Council response which was drafted in consultation with our colleagues across the FRSs which included comprehensive input from ESFRS
Did you know there are a range of different types of Automatic Fire Suppression Systems, including sprinklers, watermist systems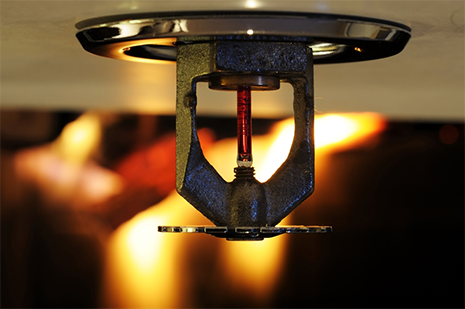 Domestic/residential premises sprinkler systems
These are installed for the purpose of reducing risk to life from fire as the largest number of deaths occur in the home as well as limiting damage within a property.
The evidence suggests sprinklers can control, contain, or even extinguish a property fire in the early stages of development before the arrival of the fire rescue service.
The optimal economics, efficiency and effectiveness of sprinkler systems report identified that:
Sprinklers are 94% efficient in their ability to operate
Sprinklers are 99% effective in extinguishing or controlling a fire
As part of a package of fire safety measures, the installation of sprinklers would benefit
Homes occupied by the most vulnerable in our communities
Care homes and specialised housing
Hospitals
Premises providing sleeping accommodation for paying guests
Schools
Warehouses
Timber framed buildings
Waste management facilities
Complex and deep sub surface basements
Firefighters, completing firefighting operations by limiting fire development
---
How do sprinklers operate?
It's a misconception that the water from sprinklers cause more damage that an actual fire.
They use a lot less water than a firefighter's hose whilst suppressing fire and smoke.
Sprinklers are heat sensitive react to heat at a temperature of 65-70 degrees Celsius the best way to understand the benefits of sprinklers is to watch the short video.
Most fires are controlled by the activation of one sprinkler head
---
Sprinkler Demonstration
To understand the benefits of sprinklers, watch this short video demonstrating the difference between a room with sprinklers and a room without.
Did you know Sprinkler systems are the only fixed fire installation which can detect and control a fire and activate an alarm
---
Personal Protection Watermist Systems
Is a self-contained suppression system designed to protect a specific area such as an individual identified to be vulnerable from fire who because of mental and/physical health issue spends the majority of their time in either a bed or chair and would be unable to escape in the event of a fire.
---
Sprinkler Saves
Provide clear evidence to both the residential/commercial sector of the benefits of sprinklers.
A sprinkler save is where one or more sprinkler heads activate containing, controlling or in some case extinguishing a building fire.
The story around the incident provides powerful evidence of the role sprinklers play, as part of an appropriate package of fire safety measures, in reducing impact of fire on people property and the environment
Visit Sprinkler Saves for the examples of where sprinklers have played a part in reducing harm and protecting vulnerable people
BAFSA reviews promoting sprinkler saves
"Sprinklers Saved our lives"
A family who were trapped by fire in their tenth-floor Birmingham flat owe their lives to sprinklers.
"We couldn't get out. We were on the tenth floor. It was too high. I can tell you for sure that the sprinklers saved our lives. It is brilliant they were installed in the first place."
---
Regulatory Guidance
Fire is the same wherever it occurs sprinkler regulations across the UK are not
In England guidance is provided in Building regulations 2010 Approved Document B-
Volume 1 Dwelling Houses
Volume 2 Buildings other than Dwelling Houses
Where are sprinklers required in the UK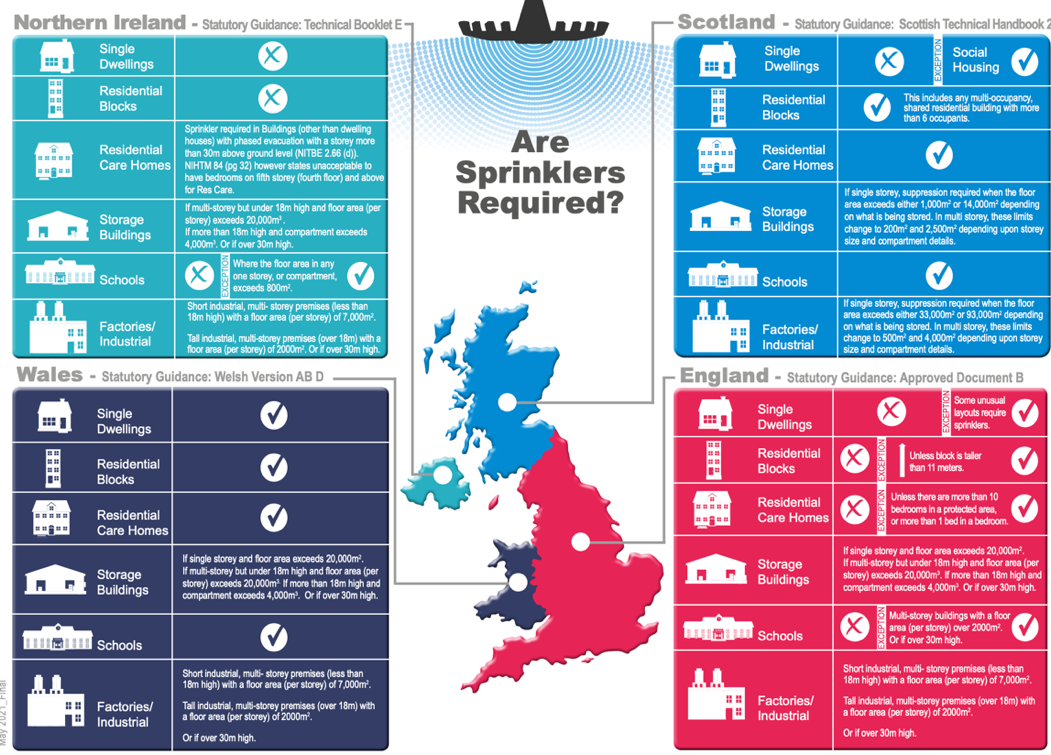 ---
National Fire Chiefs Council Sprinkler Week 15-21 May 2023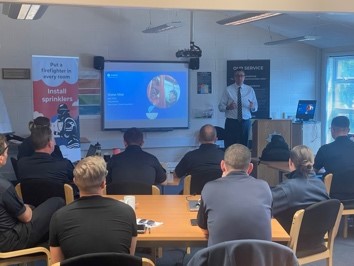 ESFRS demonstrated their continued support for the National Fire Chiefs Council Sprinkler campaign by holding a sprinkler seminar for their fire protection staff with guest speakers from the sprinkler sector.
It is recognised that the effectiveness and efficiency of any organisation depends on the skills and competence of its staff resource which should include providing staff with an understanding of sprinkler fire protection systems.
The campaign highlighted the importance of sprinklers promoting that lives and properties could be saved by the installation of a sprinkler system focusing on 4 key areas to promote the benefits of sprinklers
Spread an awareness of the facts about sprinklers.
Promote a greater understanding of fire sprinkler systems in providing business and social continuity, mitigating the effects of fire with environmental and economic cost benefits.
Support fire and rescue services to promote sprinklers in their communities, businesses, and local authority forums, providing a national picture to assist in promoting fire sprinkler systems.
The target audience is people who have a responsibility for developments which care for the most vulnerable people in our communities and those whose developments or loss of them impact the social and economic wellbeing of our communities.
---
Other sources of expertise
Downloads, Useful Links