What we have been doing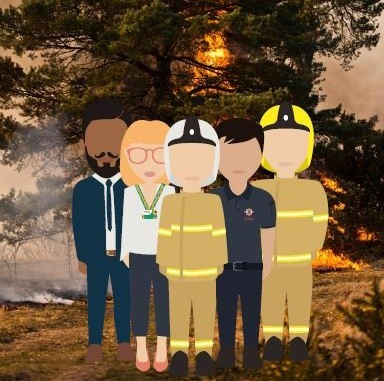 Since last year's high profile increase in UK Wildfire we've been busy looking at how East Sussex Fire and Rescue Service can reduce the occurrence and impact of Wildfires and fires in the open in our local community below are just some of the things we've been up to:
Attended the National Wildfire conference.
Trained personnel as specialist Wildfire advisors.
Held an exercise to test our Wildfire capability.
Updated our training package.
Delivered Wildfire Incident management training to our Response Officers.
Reviewed our current Wildfire vehicles and trialled potential replacements.
Introduced a new Wildfire vehicle to our operational fleet.
Continued to work with partners as part of the South East Regional Wildfire Group.
Hosted wildfire training events attended by local land managers.
Provided advice on reducing risk, including the launch of our "We're Wildfire ready" campaign.
Provided advice and guidance for rural landowners.
Continued to look at ways that we can reduce our impact on climate change.
In the following sections you can find advice on how to keep yourselves and your community safe from the risk of wildfires and fires in the open. Click on the links to find out more:
Further information
The following links may provide additional information on how to be prepared and where to go if you have any concerns.
If you have information about illegal fire setting and those responsible, please report them (anonymous) to firestoppersreport.co.uk online or by phone on 0800 169 5558

If you have concerns about children or young people who show concerning behaviour around fire then our education initiative Firewise can also help.