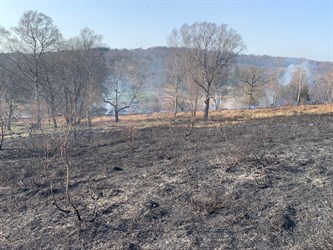 We're Wildfire Ready - are you?
Find out the actions you can take to protect yourself, property and the community from the risk of wildfire.
Get involved!
We want this information shared as widely as possible - can you help?
Follow us on Social Media, share this page or get in touch to order our leaflets - email communications@esfrs.org for more information.
What is a wildfire?
A wildfire is an uncontrolled vegetation fire that poses a risk to property, the environment and people, often in rural areas and may include crop fires, heathland and woodland fires.
They are unpredictable, can spread quickly and can have a devastating impact on nearby homes. It is very important that people living close to these areas are prepared.
Prevention – What you can do to prevent wildfires
Don't drop cigarettes or other burning material on dry ground.
Keep children away from lighters and matches.
Avoid having barbecues in parks and public spaces other than designated areas.
Don't use barbecues directly on the ground where they are more likely to lead to fire spread or injury.
Avoid having BBQs / campfires or using fireworks and paper lanterns during hot, dry spells and always have a bucket of water or sand nearby for emergency use.
Never leave campfires or barbecues unattended and extinguish them properly after you have finished using them.
Bin it! Dispose of glass bottles properly, they can magnify sunlight, starting fires.
Protection - Protecting yourself and property from wildfires
Prevent the build up of flammable material in and around your garden such as leaves, compost heaps, log piles, dry grass etc. and keep it away from external house walls and fencing.
Check for spaces between roof tiles or within your home where burning embers could become lodged such as rain gutters.
Make sure that flammable substances (including fertilisers and pesticides) are safely stored.
Trim back shrubs or trees that are close to or touching your house and dispose of cuttings responsibly. Piles of cuttings are fuel for fire.
During hot, dry spells ensure that your garden is maintained and watered regularly, water butts can be useful during periods of drought.
Position your shed away from your home to reduce risk of firespread.
Overgrown vegetation can allow wildfire to spread more easily, good maintenance will reduce the risk.
If your property backs onto a greenspace, the land manager holds the responsibility to manage the risk to that land. If you're concerned talk to them.
Evacuation Plan
Make sure your family members know what to do and where to assemble in the event of a wildfire.
This includes how to care for pets and domestic animals and a list of essentials you and your family would need in an emergency.
But don't delay – if in doubt, get out, away from vegetation and smoke.
Talk to neighbours about your evacuation plan, if appropriate.
Response – What to do in the event of a wildfire
Stay calm
Follow your evacuation plan and get to a safe place.
Call 999 – don't assume someone has already reported it.
Do not tackle the fire yourself
If you are in your car, close all windows and vents.
If possible when speaking to emergency services:
Give a map reference if possible or land mark - you can also use apps like What3Words.
Estimate the size of the fire.
Wait for the arrival of the fire appliance or ranger in a safe location near a road or car park, away from vegetation and smoke.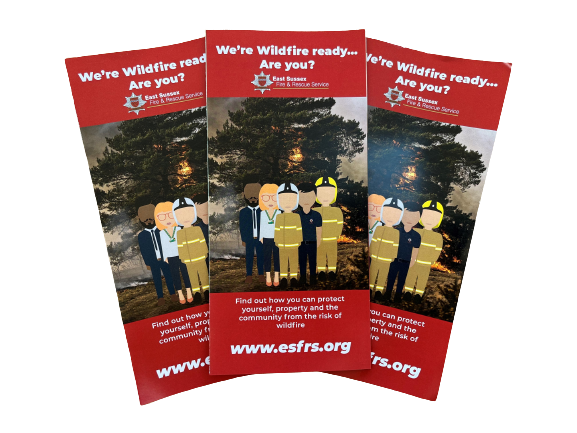 Further information