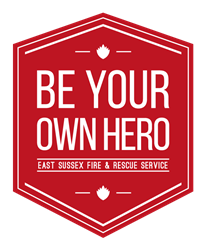 East Sussex Fire and Rescue Service is lifting the lid on fire safety by asking about what really happens behind closed doors in people's homes. It has re-run its Be Your Own Hero survey which aims to find out a little more about what happens just before a fire, and about "near misses" where a fire was only narrowly avoided.
The online survey took place between 1 July 2022 and 1 February 2023, and was supported by two events, one in Crowborough and one in Brighton.
The survey was overseen by Communications Manager Elizabeth Curtis who said:
"It's really important for us to hear the experiences of those in our communities. We were pleased to see that so many people had working smoke alarms but there's obviously still work to do on helping people avoid fires. We will use this survey to help shape our campaigns over the coming months."
It's the second time the service has run the survey – the first being in the winter of 2017/18.
Key findings
15% of people who took the survey confirmed that they had had a fire in their home. This is a reduction from 29% from the previous survey.
In another change from the previous survey, the most common place for a fire was the lounge/dining room at 27%, followed by the kitchen at 20%.
32% of people reported being distracted when the fire happened. This is a reduction from 50% last time.
88% of people had working smoke alarms on every level of their home and tested them regularly.
Causes of fires and near misses
When looking at the causes of fires, cooking accounted for 20% which was also the top single cause last time.
Candles and open fires both account for 13% in second place and there were no reports of fires caused by electrics, which is a reduction from 16% last time.
When asked if respondents had had a "near miss", 32% reported having burnt food, down from 50% in the previous survey. This was followed by smoke from an electrical appliance/source 12% and forgetting to put out a candle 6%. 2% forgot to put out a cigarette. There were several comments about pans as well as items being left on cookers.
Six Simple Steps
Read the full report: