You may have heard of Couch to 5K – a brilliant way to you running in just a number of weeks, even if you have never run before (check it out here)
We've taken that idea and run with it (sorry!) and have 7 weeks of hints and tips on how to go from Couch to Firefighter, just in time for our wholetime firefighter recruitment to open.
We've split it into 3 key areas –
personal qualities,
brain power
and fitness.
All of these are important to us.
We will also add the information here – so if you're late to the party, you can easily catch up!
Or follow us on social media


---
Week 1 Values – personal qualities
Personal values are the things that are important to us, the characteristics and behaviours that motivate us and guide our decisions. For example, maybe you value honesty. You believe in being honest wherever possible and you think it's important to say what you really think.
We have our own set of values for East Sussex Fire and Rescue Service:
PROUD - We are proud of our Service and enjoy working in a positive environment - by continually improving our services and our organisation.
ACCOUNTABLE - Serving our whole community - by providing a good, cost-effective service.
INTEGRITY - Trust, integrity, initiative and innovation - by being open, honest and encouraging creativity.
RESPECT - respect and dignity for all - by treating members of our community and each other in a way that values their individuality and by challenging discrimination and unsuitable behaviour.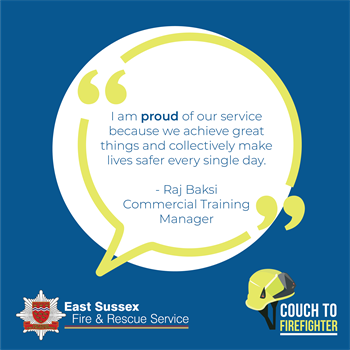 ---
Week 2 Brainpower – Community and communication
Being a firefighter is more than just a job – it's a career that will take you into the heart of the community. We're looking for people who have great communication skills and can use their brains to figure out the best way of getting safety messages across to a wide range of people.
During the recent lockdown, our firefighters in Eastbourne wanted to make sure local school children and youth groups still got to see inside a community fire station to understand what goes on.
They took the initiative, and with the support of our Education Team, produced this video.
---
Week 3 Fitness – Get moving
You didn't think we'd do Couch to Firefighter without mentioning the original Couch to 5k did you?
Having a good level of fitness is really important and so if you don't already do regular aerobic exercise, we'd recommend you sign up and get yourself moving.
Please remember if you have any health concerns about beginning an exercise regime like Couch to 5K, make an appointment to see a GP and discuss it with them first.
You can find out more about the fitness tests for firefighters here. The page contains useful videos and a booklet on the tests involved in the recruitment process.
---
Week 4 Personal qualities – Every contact counts
We've already mentioned how important it is that we are part of the community and how we work to help keep people safe.
One way we do this is to carry out home safety visits and this is something every firefighter learns how to do. Sometimes we book them in and other times they take place after a fire.
Either way, it's something we know helps save lives.
We worked with the Home Office to produce this (pre-Covid) and it gives you a good idea of what's expected.
---
Week 5 Brain power - Training
We hope you love to learn! Being a firefighter involves a lot of training to prepare for incidents. You'll be taught how to do everything from tackling fires, rescuing people trapped in cars to water safety.
Find out more from Chris Baker at our Service Training Centre.
---
---
Week 7 Personal qualities – Fire Cadets
We're really proud to have a thriving group of Fire Cadets in East Sussex Fire and Rescue Service.
They are remarkable young people and our firefighters have been an important part of getting the scheme up and running here.
We got Jules (our Assistant Director of Safer Communities) together with Joolz (one of our Cadets) virtually to quiz each other on just how they ended up where they are.
---
Week 8 Brain power- Aptitude tests
Part of the recruitment process involves aptitude tests which test your verbal, numerical & mechanical reasoning.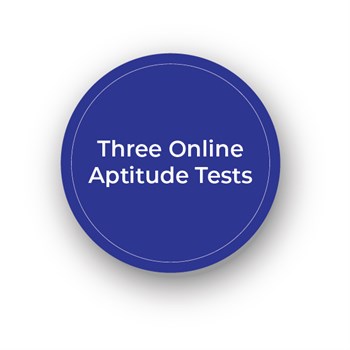 ---