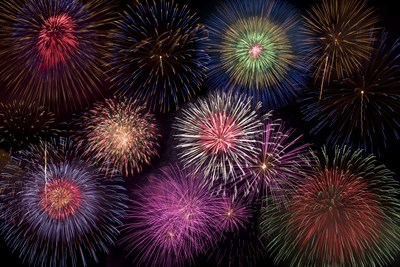 Fireworks are well-loved by the public but can be dangerous.
Fireworks are not just used on 5th November, but to celebrate a number of significant dates throughout the year including New Year's Eve, Diwali, Chinese New Year, Birthdays, Weddings and National Celebrations.
Many organisations hold firework displays to celebrate certain occasions and we always recommend attending organised displays, avoiding the cost and safety responsibilities of holding your own display.
Holding a firework display
If you do have a safe place to celebrate with fireworks, at your own home or on private land (with the landowners permission) you should ensure it is well planned and safe for those attending.
Checklist for a safe firework display.
Plan ahead
Fireworks must be stored safely away from sources of heat and ignition
Don't store fireworks in residential rooms, under the stairs or means of escape
Only buy fireworks from a licensed, reputable retailer you can trust
Fireworks must carry the CE mark
Ensure you have sufficient space to meet the safety distances of the fireworks
Fireworks can only be let off between 7am and 11pm except on Bonfire Night (5 November) when it is midnight or New Year's Eve, Diwali and Chinese new Year when it is 1am
On the night
Ensure everyone remains a safe distance from the fireworks
Fireworks must only be lit by a responsible adult
Do not drink alcohol if you are setting off fireworks
Keep fireworks in a closed box a safe distance from the display
Ensure you have a torch for reading the instructions on each firework
Wear eye protection and gloves when setting off fireworks
Let fireworks off one at a time
Never return to a firework once lit it could still explode
Prepare a bucket of soft earth to stick the fireworks in
Prepare supports for Catherine wheels & proper launchers for rockets
Sparklers
Unsuitable for children under five
Light one at a time
Hold sparklers at arm's length and wear gloves
Put used sparklers hot end down into a bucket of sand or water to prevent burns or a fire
After the display
Wear strong gloves and use tongs to collect spent fireworks and sparklers
Soak it - Douse them in water - ideally overnight - to ensure there is no chance of them setting anything alight
Bag it - Collect all the spent fireworks and sparklers in a bag
Bin it - Put them in the rubbish bin
What if a firework is damaged or doesn't go off?
This guidance is intended to deal only with consumer fireworks (i.e. those that are to be supplied to members of the public) that have become damaged and which are leaking explosive composition, or have partially functioned.
It should be noted that the safest way of dealing with a firework, that is complete and undamaged, is to function it in accordance with the instructions provided with the firework.
The term 'damaged fireworks' in the context of this guidance means any Category F1, F2 or F3 pyrotechnical article.
With a manufacturing fault or mechanical damage to its casing that is causing the explosive composition to leak; or
That has failed to function or has partially functioned; or
Is in a damp condition.
Guidance for members of the public:
Drowning or submerging the firework in a bucket of water for a specific period of time will render the firework non-explosive. The firework must be soaked right through which may take several hours.
In order to avoid possible self-heating the fireworks should be totally immersed in a large volume of water and where necessary weighted down to ensure this.
Then subsequent disposal of the soaked firework with domestic rubbish may be an appropriate action for the general public to take. Place the soaked firework(s) in a plastic bag then into the rubbish bin.
Further guidance on safe disposal of fireworks may be available from the retailer or manufacturer of the firework.
This method can and should be used for disposal of fireworks that have functioned correctly.
Further Advice and Guidance
We have serious concerns about the use of marine flares and handheld pyrotechnics at sporting events and festivals including bonfire celebrations.
The amount of heat and smoke that these items produce is considerable and whilst from a distance, they may look spectacular injuries have occurred in East Sussex, we believe it is only a matter of time before somebody is seriously injured.
The legal position
The use of marine flares and handheld pyrotechnics during music festivals were brought in line with sports stadia when a new law took effect from 3 April 2017. The legislation bans the use of pyrotechnics at music festivals. Section 134 of the Policing and Crime Act 2017 states that anyone caught with a "pyrotechnic article" at a "qualifying musical event" in England or Wales could face up to three months in prison and/or a fine.
While many believe that pyrotechnics and flares contribute to the atmosphere of an event, it is difficult to argue with how dangerous they are, particularly in a crowd. The law follows considerable public demand in 2016 because of the anecdotes of serious burns and panic attacks brought on by smoke.
Flares can burn at up to 1,600 °C; pyrotechnics & fireworks can be even hotter, at up to 2,000 °C which is retained for a significant duration after the initial effect. There is also the added danger of an unexpected projectile. The throwing of pyrotechnics from within a crowd can also create dangerous and distressing crowd disturbance.
Pyrotechnic Articles
This is defined as "an article that contains explosive substances, or an explosive mixture of substances, designed to produce heat, light, sound, gas or smoke, or a combination of such effects, through self-sustained exothermic chemical reactions." It does not include matches, however, it is specifically designed to include flares, fireworks and smoke bombs.

Advice and Guidance