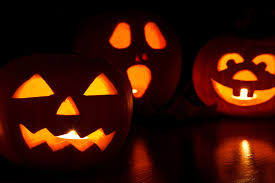 We don't want to spoil the fun to be had on Halloween but we want to warn people of the potential dangers that can be faced.
Check out our advice below to ensure you don't get spooked by fire this Halloween....
Decorations
Halloween is a great occasion to dress your home with all sorts of spooky decorations. Many homes incorporate candles in their decorations to enhance the eerie atmosphere. We would always recommend that you use battery-operated lights in the first instance but if you choose to use candles, it's important to be wary of where they are situated and the other decorations around it. Candles should be isolated enough so that they don't pose any danger, so make sure other decorations or hanging parts are kept away from the naked flames.
Lanterns and pumpkins
Jack-o-lanterns are a staple of the Halloween season, and carving one can be a fun activity between parent and child. Despite traditional jack-o-lanterns typically containing candles to light up their frightening expression, we recommend switching to battery-operated lights to ensure a safer experience. The same precautions also apply to handheld pumpkins and lanterns that your child may be carrying as part of their costume.
Costumes
Be wary of the materials used in Halloween costumes. Synthetic materials are much more flammable than natural materials, so keep an eye out for costumes containing cotton, silk, or wool. These materials will be more resistant to fire and give you more time to act if a fire does occur.
Stop, drop and roll
In the event that clothing does catch fire - remember to STOP, DROP and ROLL:
Stop where you are. Do not run. Running can make things worse.
Drop to the ground. Lay flat with your legs out straight.
Cover your eyes and mouth with your hands.
Roll over and over and back and forth until the flames are out.
Get help straight away - Call 999