It's not just winter weather which can wreak havoc on the roads - even rain at any time of the year can be dangerous - in fact 9 out of 10 weather-related deaths and serious injuries on the roads take place in the rain. From high winds, strong sunlight and fog to snow and ice, all weathers can present different challenges both for keeping the travel networks open and for those navigating through the difficult conditions.
Driving in storms, rain and high winds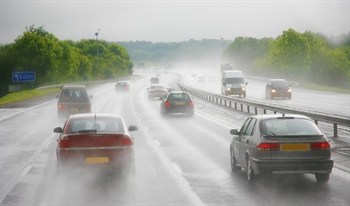 Even moderate rain can reduce your ability to see and be seen. A good rule of thumb is 'if it's time for your wipers, it's time to slow down'.
If heavy downpours are expected, avoid starting your journey until it clears.
If you can, choose main roads, where you are less likely to be exposed to fallen branches and debris and flooding.
Use dipped headlights if visibility is seriously reduced.
Gusts of wind can unsettle vehicles – grip your steering wheel firmly with both hands. This is particularly important when planning to overtake.
Keep an eye out for gaps between trees, buildings or bridges over a river or railway – these are some of the places you are more likely to be exposed to side winds. Ensure that you maintain enough room either side of your vehicle so you can account for it being blown sideways.
Roads will be more slippery than usual in wet weather – be sure to give yourself more time to react when approaching a hazard. Increase your following gap to at least four seconds from the moving traffic in front.
Keep your eyes peeled on the road at all times as spray from other vehicles can suddenly reduce your visibility. Remember it affects others too, so anticipate their actions and be prepared.
What to do when the road is flooded
On flooded roads, think before driving through deep water; don't stop in standing water, and drive through the highest section of the road slowly. If there is any doubt don't enter it.
Once you have managed to drive through check your brakes and dry them out as quickly as possible – a light touch of the brakes whilst still moving should do the trick.
Keep an eye out for cyclists, motorcyclists and pedestrians
Remember to give vulnerable road users including cyclists, motorcyclists and pedestrians more room than usual. They are more likely to be blown around by side winds – always keep a safe distance.
Driving in mist and fog
According to the Highway Code, you must use headlights when visibility is seriously reduced - generally when you cannot see for more than 100 metres.
When there's fog around, make sure you're familiar with how to operate your front and rear fog lights.
If your car has automatic lights, remember to check the lights are on, as they may not be automatically activated in foggy conditions. However, do not use full beam lights, because the fog reflects the light back, reducing visibility even further.
Follow the 'two-second rule' to leave sufficient space between you and the car in front.
If visibility is very limited, wind down your windows at junctions and crossroads to allow you to listen out for approaching traffic. If you really cannot see, you should consider stopping until it is safe to continue.
If your car is fitted with air conditioning, use it, as it will stop the windows from misting up. Ensure the heater is set to windscreen de-misting and open all the vents.
If the fog is so severe that you're struggling to see other vehicles, switch on your fog lights.
More information on driving in severe weather from Met Office Barometer