Before winter weather arrives, check that your vehicle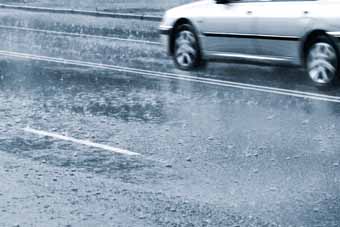 is properly maintained and serviced.
tyres have plenty of tread depth, are in good condition and correctly inflated (don't forget the spare)
radiator contains anti-freeze and the cooling system is free from leaks.
battery is in good condition (many garages/battery suppliers will carry out this check free of charge).
windscreen wipers and washers are working effectively.
washer bottles are full and contain anti-freezing/cleaning additive.
Winter Driving Tips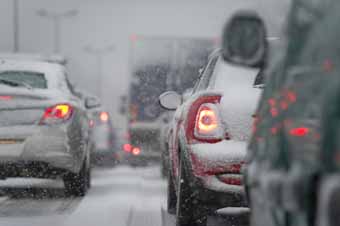 use dipped headlights in poor visibility
reduce your speed compared to 'normal' driving conditions
keep a safe stopping distance behind the vehicle in front. It takes much longer to stop in wet or icy conditions
avoid harsh braking, acceleration and steering
keep a careful watch out for other road users especially motorcyclists, pedal cyclists and young pedestrians
if you get into trouble, try not to abandon your vehicle, stay with it until help arrives
if you are forced to leave your vehicle make yourself visible by wearing a fluorescent/reflective tabard/jacket.
Winter driving emergency kit and checklist
Car emergency kit
Ice scraper and de-icer
Torch and spare batteries - or a wind-up torch
Warm clothes and blankets - for you and all passengers
Boots
First aid kit
Jump start cables
Food and a warm drink in a thermos
Shovel
Reflective warning sign
Road atlas
Sunglasses - the glare off the snow can be dazzling
Mobile phone charger
POWDERY checklist
PETROL (or diesel) - Have you got enough? Do you know where to fill up?

OIL - check levels once a month

WATER - check radiator and screenwash once a month

DAMAGE - check wipers, lights etc. for signs of wear and tear or damage

ELECTRICS - check lights, indicators and controls are working properly

RUBBER - are your tyres well inflated, legal, with good tread and free from damage?

YOURSELF - are you fit to drive? Have you slept well? Are you taking any medication(s) that could make it unsafe for you to drive?