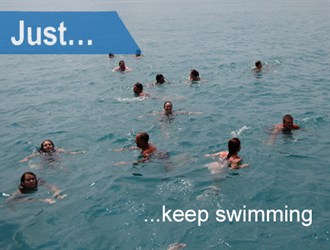 Open water swimming is an increasingly popular sport and a great way for adults to keep fit whilst enjoying nature.
Taking sensible precautions will enhance your safety.
Swimming in a group or better still at an organised event is a safer way of starting open water swimming, never swim alone.

Start slowly, build up strength and experience gradually. You will develop some resistance to cold water but cold shock always remains a danger, get out before you get cold and make sure you have warm clothes to put on.

Never swim in canals, locks or urban rivers; flowing water can be extremely powerful and levels can rise several feet in minutes even if it is not raining where you are. Moving water will rob you of heat 250 times more quickly than still water.

Do not jump in, you never know what might be hidden just below the surface, if the water is very cold sudden immersion can cause a gasp reflex causing you to inhale water on contact.

Wear a brightly coloured swim hat and consider a safety buoy to make yourself more visible.

Always consider your exit point, and any emergency exits, before you get in the water.