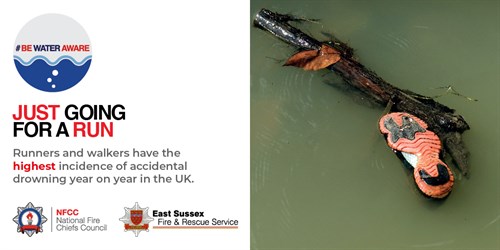 Don't assume you're not at risk of drowning because you don't intend to go into the water.
Every year on average around 400 lives are lost in the UK's waters – more than one a day – and they're not just confined to the beach and coast.
The highest incidents of accidental drowning happen to people who enjoy running or walking near water
Many coastal walking fatalities were alone at the time of the incident and runners are often distracted by their activity, which can result in not noticing the hazards. None of these drowning's are inevitable – they simply don't have to happen.
Water safety tips near open water:
Try to always walk or run with a friend
Always let someone know where you're going.
Don't assume just because you have walked or run a route many times before it is still safe.
Avoid walking or running near water in the dark
Make sure your walk or run is appropriate for your fitness level even if you are just taking a leisurely stroll
Consider joining a running or walking group
Be aware and take notice of any warning signs
When running or walking next to water, stay clear of the edges. River banks and cliff edges may be unstable and give way - particularly after bad weather
Wear appropriate footwear and clothing - even if you are just going to stretch your legs
Take a fully charged mobile phone and check signal strength, know how to use it and who to call in an emergency (999 Fire or Coastguard depending on where you are)
Look out for trip or slip hazards - pay attention to your footing
Stick to proper pathways
Don't walk or run next to water if levels are high
Make sure you know exactly where you are - consider downloading something like the what3words app for a smart phone
Tides
In the UK tides are relatively regular and predictable, yet despite this fact every year a number of people are caught out by rapidly rising water and end up being trapped in isolated bays. If you intend to venture across any beach or bank affected by tidal water make sure you know when the incoming tide is expected and know where all the exits are.