Do not store petrol at home unless you have to, if you do STORE IT SAFELY
Petrol is a dangerous substance, it is a highly flammable liquid that gives off vapours that can be easily ignited. Any leak of petrol can lead to a serious fire and/or explosion, particularly if the leak occurs within a building.
Petrol must be stored in suitable portable containers and only in specific locations.
---
Heads Up
This case from our Heads Up website the potential consequences from the incorrect storage of Petrol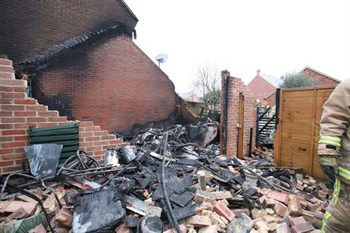 ---
Petroleum Regulations
The storage of petrol is covered by the Petroleum (Consolidation) Regulations 2014.
Common storage arrangements
Petrol must not be stored in living accommodation
The storage place must have a direct exit to open air and ventilation
You must take reasonable precautions to prevent any ignition sources or excessive heat in the storage place
Where the storage place is attached to a building, e.g. an integral garage, it must be provided with fire separation from the remainder of the building
You should not use petrol in the storage place except in the fuel tank of an internal combustion engine or in quantities less than 150 millilitres for cleaning purposes
Maximum storage quantities
You can store up to a maximum of 30 litres of petrol (in addition to the petrol contained in the fuel tank of your vehicle)
Plastic petrol containers up to 10 litres capacity
Metal petrol containers up to 20 litres capacity
One demountable fuel tank up to 30 litres capacity
Petroleum Safety Information Sheets
We have created a series of information sheets to help explain your responsibilities in more detail.
Our information sheets cover a range of different topics. Please read all those which apply to you.
Contact us
For more information on this or any other petroleum related matter please contact
Community Safety
Eastbourne Community Fire StationWhitley RoadEastbourneEast SussexBN22 8LA
Tel: 0800 177 7069