Fire Risk Safety Advice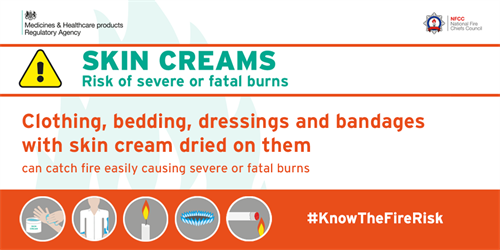 Emollient skin creams are commonly used for skin issues like psoriasis.
While generally safe, these creams can leave a flammable layer on clothes, bandages, and bed sheets.
If these soaked fabrics come in contact with an open flame or heat source like a cigarette or stove, they can catch fire quickly. This can lead to severe injuries or even death.
FAQs
What are emollient skin products?
These moisturizers often have ingredients like paraffin, shea butter, or mineral oils.
They work by forming a protective layer on the skin to lock in moisture.
Are they only prescribed by doctors?
Doctors, nurses, and other healthcare providers often prescribe emollients for a long time to treat skin conditions like psoriasis and eczema. You can also buy many of these creams without a prescription at pharmacies and supermarkets.
Are they safe to use?
Yes they are. We encourage their use as recommended by medical professionals and the manufacturer's instructions.
Are they flammable?
Not in isolation. If you put a match to a sample of emollient skin product it would not ignite.
So why should I be concerned?
Regular use of these creams can make them soak into your clothes, bedsheets, and bandages. The residue then dries in the fabric.
Risks of fire start from:

Dropping a cigarette, match, or lighter
Sitting too close to a gas, halogen, or open fire
Clothing catching on a stove while cooking

If any of these happen, the fire can grow and spread quickly, leading to serious injury or even death.
What can I do to make sure I'm safe?
Never smoke in bed
Do not smoke if there is any chance your clothing or dressings could be contaminated with these products
Do not cook if there is any chance your clothing or dressings could be contaminated with these products
Do not sit too close to any open fires, gas fires or halogen heaters
Wash your clothing and bedding daily at the highest temperature recommended by the fabric care instructions. This should reduce some of the contamination but may not remove it completely.
What can I do to make sure my friends and family are safe?
Tell others about this information so they also know the possible dangers. Emollient cream is now part of the Home Safety Visit report. Staff are guided to inform clients properly if they find that these creams are being used.
Further information and advice can be obtained from ESFRS Community Safety and Business Safety Departments.
Information for health and care professionals
Emollient skin creams are safe to apply but can leave a flammable residue on clothes, bandages, and bedsheets. If these residue-covered fabrics come near an open flame or heat source like a cigarette, stove, or heater, they can quickly catch fire. This can lead to severe injuries or even death.
What can you do to help?
In a hospital setting:
Patients should know the fire risks of smoking or being near flames while using these creams, both verbally and in writing.
Display fire safety tips in relevant hospital areas.
If a patient plans to smoke, advise them to wear clean, thick outer clothes.
Notify family or caregivers if a patient ignores safety rules with these creams.
In a community setting:
Confirm the advice has been understood through regular checks.
Tell patients and families to change clothes or bedding soaked with emollients daily to minimize fire risk. Note that washing may reduce but not fully remove the residue.
Urge patients to share this advice with their family.
If a patient with a history of smoking shows memory issues or confusion, inform the GP.
Share this info with your colleagues.
Log the advice in the patient's care plan.
General practitioners
Check patients' smoking status before starting treatment.
On the first prescription, inform patients about fire risks related to smoking or being near flames if they're using these creams. Record that this advice has been given.
In follow-up visits, make sure previous advice was understood.
Re-evaluate treatment if a patient who smokes shows signs of memory issues or confusion.
Consider other treatments for those at high fire risk due to smoking or cognitive issues.
Share these guidelines with your team.
Display key info for patients and encourage them to share it with family.
Pharmacists
Discuss fire risks of these creams, particularly if patients smoke or are near flames.
Log advice in their Patient Medication Record and remind them regularly.
Don't obscure any flammability warnings on the products.
Send high-risk patients back to the GP and note it in their Patient Medical Record.
Share these points with your team.
Further Information